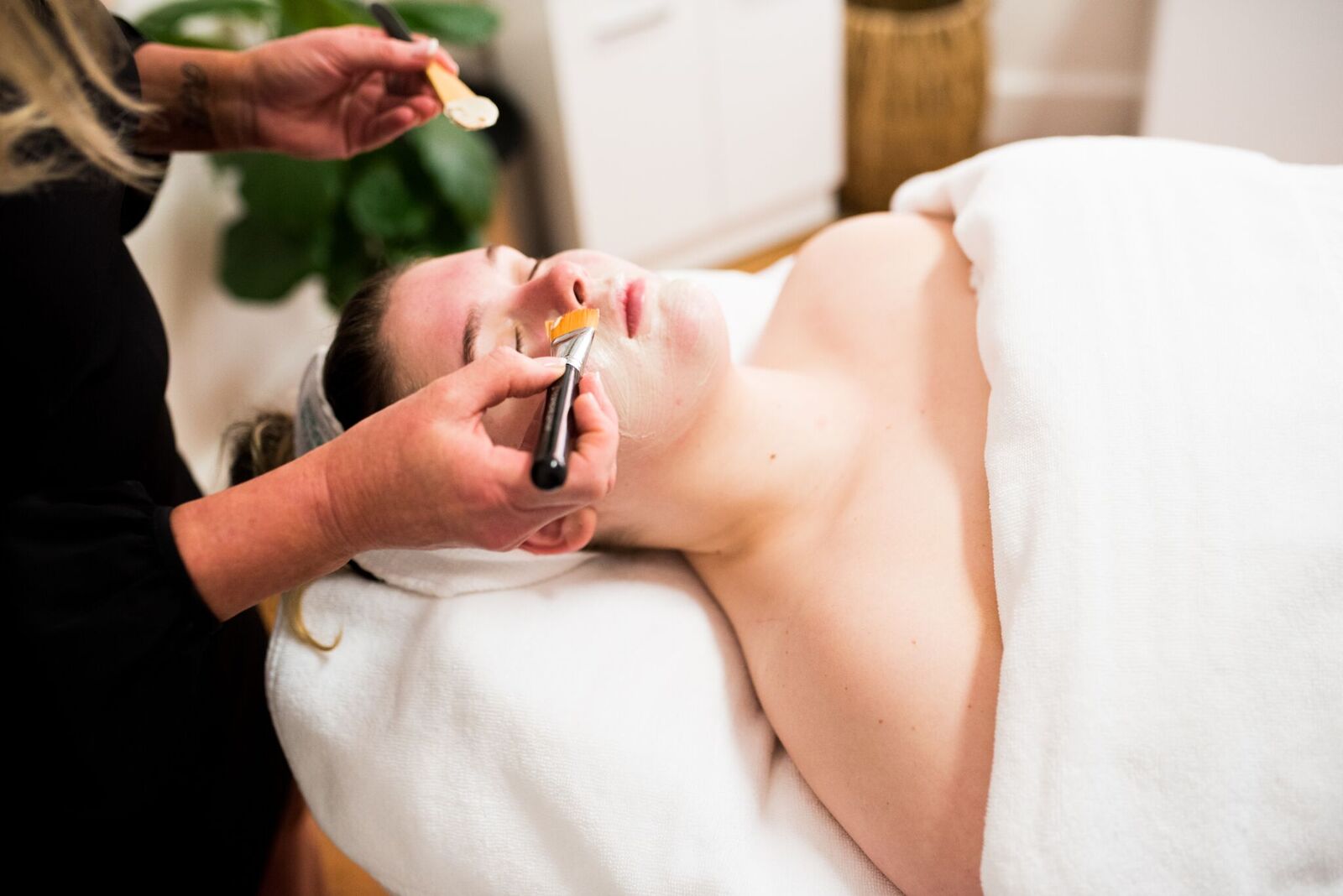 LUXE FACIALS
THE CUSTOM SKIN HEALTH TREATMENT
A regeneration treatment to help assist in the repair of cellular damage, minimising the effects of biological and premature ageing. Using a number of highly active clinical products and procedures with old school hands on pampering to achieve optimal skin health that will leave you feeling relaxed and calm and your skin hydrated, smooth and glowing!
Includes microdermabrasion or chemical peel, dermal booster serums, collagen eye treatment, coconut oil massage and finished off with a double layered repair cream mask and hydrating sheet mask.
75 min $145
90 min $195 Includes LED Light Therapy, dermal booster Infusion + decolletage peel
THE BESPOKE FACIAL
A beautiful pampering and rejuvenating facial, the answer to maintaining beautiful healthy skin! Using cosmeceutical products to address any skin concerns, includes a beautiful décolletage, face and scalp massage.
30min Mini Skin Boost $75 (face only) Perfect express pick me up!
60min $99 Rec: for first time clients or as your maintenance facial
75min $145 (The Luxe) Includes eye treatment, foot + hand massage.
THE EXTRACTION FACIAL
For skin that needs to be clean and clear!
This facial is all about deep cleaning the gunk and build up from the pores, using expert extraction techniques and professional products that work to remove bacteria and congestion to help speed up the healing process.
Perfect for teens, acne prone and congested skin conditions.
30 min $65
60 min $99 * Includes Led Light Therapy
Add a Micro or Peel $35
THE MINDFULNESS FACIAL
A true skin + mind treatment experience!
In todays busy world, our mental health is constantly being challenged.
This holistic, high touch, nurturing facial experience that will be customised to your skin needs. A blissful massage including the eastern influence of reiki techniques and the beautiful 'Shemana Crystalline Elixirs' that create a synergy of therapeutic benefits for the skin, mind and spirit.
When the specially selected mask is applied, so are the headphones, guiding you through a professional meditation session.
60 min $155
SKIN REHAB FACIAL
Assisting in the repair of your skins barrier and to increase cellular health!
This nourishing facial is ideal for any reactive skin conditions such as rosacea, dermatitis, eczema, diffused redness or any type of sensitivity...
Includes a gentle anti-inflammatory enzyme exfoliation, custom blended treatment boosters, relaxing massage and finished off with healing LED Light Therapy
75min $145
THE NECK + DÉCOLLETAGE TREATMENT
The neck/dec area are one of the first areas to show signs of ageing due to over exposure to sun and neglect…
The skin in this area is very thin with very few sebaceous glands and limited melanocytes (cells that give colour) so damage is more easily done. Also being a high histamine response area therefore is inclined to redden (flush) easier.
Includes a gentle skin rejuvenating peel, anti-inflammatory dermal boosters, a relaxing massage, a specially designed neck/dec delivery mask that is used under LED Light Therapy to deeply nourish, heal and strengthen the area.
60min $125
Add on SKIN NEEDLING (CIT) $240 per treatment (for neck + dec) to achieve maximum results.


SKIN CONSULTATION
Lets have a thorough look at your skin and discuss your concerns...
Together we will put into place a salon treatment and home care plan that will best suit your immediate skin concerns and offer you long term results, taking into account your lifestyle and budget. I am always happy to refer you on to another clinic/person in the cosmetic or medical field if I feel you will benefit from a different type of care.
30-45min $50 Includes - double cleanse, skin polish and leave on vitamin mask.
A skin consult is offered to new clients having a facial treatment N/C
ADD ONS
LED Light Therapy $40
Microdermabrasion $35
Chemical or Enzyme Peel $35
Extractions $25
Collagen Eye Treatment $15
Decolletage Peel $35
Hand Peel + Mask $35
Vitamin Infusion (Sonophoresis) $25
ALL TIMES ARE APPROXIMATE